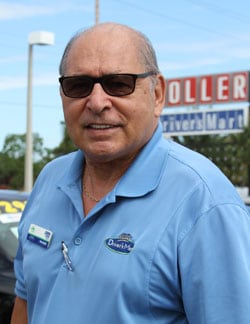 John Citrone has been working in the car business for 53 years, and he is now a sales representative at Driver's Mart in Winter Park, specializing in helping credit challenged customers.
When John was 18 years old, he went into the Navy. Immediately upon coming back, he married his wife Sandi and entered the car business. John has worked in every phase of the car business since then. This all started because his wife's father owned car lots around town. For a while, John worked in management at these stores. When he was 25 years old, thanks to a connection his father-in-law had with the company, he started his career with the Holler-Classic automotive group, working at Holler Chevrolet.
When the sinkhole hit Fairbanks in May of 1981, John was the manager on duty at the dealership. This sinkhole took much of Fairbanks with it. Dealership staff had to quickly move cars off the lot, and some cars actually fell in. John had to think quickly as the hole expanded so much that it swallowed a 2-story house, part of a Porsche dealership, and a swimming pool. The hole was 75 feet deep and 350 feet wide.
Since then, John has had several other roles in the company. He even left for a short time and returned. John enjoys working for the Holler-Classic group because he believes the Hollers are a good family with a good reputation. He has met some of the family members personally. He also enjoys the opportunities for advancement. These are just a couple of the reasons he has stayed with the company for so long.
"I am part of the furniture here," John said.
While working for Holler-Classic, John put his two children through college. His son is now a journalist and a musician, and his daughter works as a choreographer and talent agent. He is proud of his children and their accomplishments, and he is also happy to have found his own calling.
"The auto business has been a major part of my life and been very good to me and my family," John said.