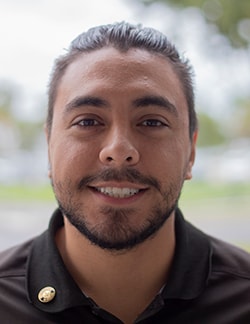 Andres Hoyos came to Orlando from Jupiter to attend the University of Central Florida, then joined the Holler-Classic team as a sales representative.
In July of 2018, he joined the team at Classic Mazda. He recently transferred to Driver's Mart Sanford. When he applied for the sales job, he was looking for a position that involves working with people. Andres has always been a people person. Before working in sales, he worked part time in customer service roles at restaurants and coffee shops.
Andres enjoys his job because of the human interaction he experiences with customers and coworkers. The workplace feels like a family environment with mutual respect among members of the team. He feels like he can always joke around and have a good time.
Outside of work, Andres enjoys fitness, gaming, and reading up on advances in science and technology. Learning about developing cures and remedies helps Andres focus on his goals, and he is always interested in learning about new medical discoveries.
While this job has been a great start to his career, Andres would eventually like to work in biotechnology, his field of study at UCF. Once he is working in that field, he would like to study stem cells and work to help find a cure for cancer. For now, he would like to grow within this company and do the best he can.